The literal meaning of Pakistan is the Land Of Pure but has it lived upto its name ?
Today when you move across mega cities of Pakistan like Karachi, Lahore , Faisalabad, Peshawar or Quetta you'll see solid waste dumped across many streets and roads. Days and sometimes even months pass before that waste is picked and taken to some other dump site. This not only makes the city look ugly but also affects the health of people living in such areas.
If you walk down the road you will find two stroke rickshaws leaving behind a trail of bluish smoke .Uncontrolled emissions from buses, cars and motorcycles have made it difficult for many to breathe. The number of patients with asthma has constantly been increasing and allergies are becoming more common by the day.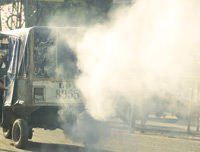 Furthermore the industries have been given a free hand. There is no check on the emissions and effluent discarded by most industries.One of the biggest ship breaking yards of Asia at Gaddani, Balochistan is the worst example of such industries. There is no check as to what is dumped into the sea and most workers work without basic protection. This has resulted in accidents many at times and has literally destroyed the species of fish and prawn in that area.
The government needs to address this issue immediately. Steps should be taken to regulate the industries.Vehicle emissions should be reduced and two stroke rickshaws should be banned.Also, solid waste treatment plants should be setup across the country that will not only help clean the country but will also provide employment opportunities for skilled and unskilled labor.
Lets make the Land of Pure clean and green once again.